Please cooperate in one way.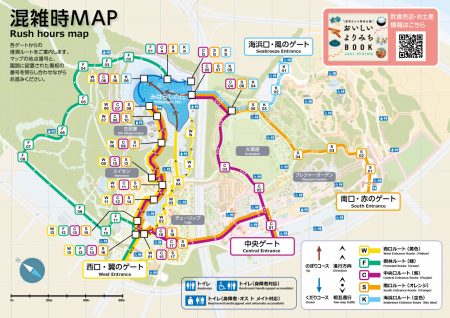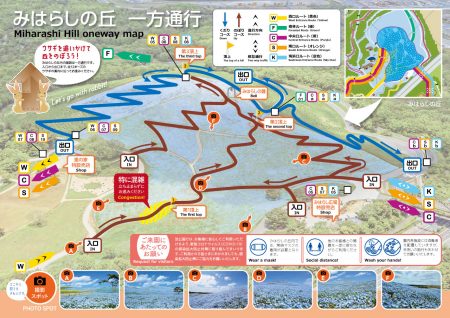 From April tenth to May ninth, the route within Miharashinoka will be one way.
Please use it according to the route of the rush hours map of distributed at each gate.
---
In order to make sure everyone can enjoy Hitachi Seaside Park safely, the park is taking measures to stop the spread of COVID-19. Please follow the rules below to during your visit.
Please check the temperature before coming to the park. Please refrain from coming to the park if you have a fever (over 37.5) or if you are not feeling well.
Wear a mask and cough away from other people and into a tissue. Be aware of heat stroke while wearing a mask.
Social distance! Leave space between yourself and other visitors while walking round the park.
Wash your hands regularly and use the hand sanitiser available inside park buildings.
I recommend you to use the contact application of the country (COCOA) or the contact notification system "Ibaraki Amabie chan" of Ibaraki.
Please refrain from coming to the park from prefectures where a state of emergency has been declared in accordance with Ibaraki Prefecture's policy.
Flowers in Season
nemophila (baby blue eyes)
the peak is gone
Miharashi Hill
2021/5/7
garland chrysanthemum
best (in full glory)
Izumi no Hiroba Flower Garden
2021/5/7
Cornflower
good (70% in bloom)
Gardens around BMX Course
2021/5/7
Shirley poppy
began to bloom
Grassland Flower Garden
2021/5/7
rose
about to bloom
Hitachi Rose Garden
2021/5/7
rugosa rose
in bloom
Hitachi Rose Garden
2021/5/7
About Hitachi Seaside Park
Located in the area facing the Pacific Ocean in the city of Hitachinaka, Hitachi Seaside Park offers beautiful flowers in its well-kept, large gardens throughout the year. In spring, narcissuses, tulips and nemophila (baby blue eyes) attract lots of visitors. In early summer, poppies and roses, and in summer, zinnias and sunflowers, bloom. In autumn, you can enjoy kochia (summer cypress) and cosmos flowers. In winter, ice tulips can be seen, making for a rich complement of flora throughout the year. The Pleasure Garden, which features over 25 rides and attractions, includes a Ferris Wheel sitting 100m above sea level and offering outstanding views. Other destinations that allow you to enjoy nature include the Rinkan Athletic Grounds, Barbecue Zone, and Cycling Course.