Please cooperate in one way.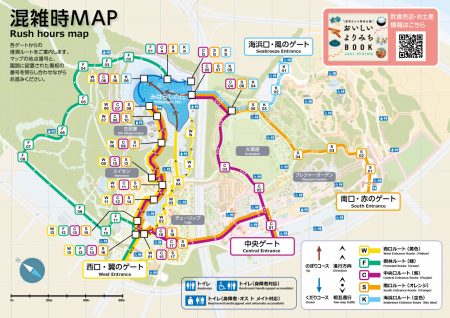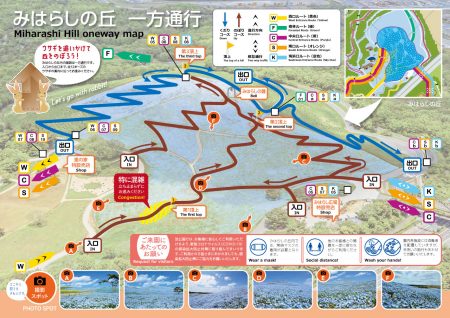 From April tenth to May ninth, the route within Miharashinoka will be one way.
Please use it according to the route of the rush hours map of distributed at each gate.
---
In order to make sure everyone can enjoy Hitachi Seaside Park safely, the park is taking measures to stop the spread of COVID-19. Please follow the rules below to during your visit.
Please check the temperature before coming to the park. Please refrain from coming to the park if you have a fever (over 37.5) or if you are not feeling well.
Wear a mask and cough away from other people and into a tissue. Be aware of heat stroke while wearing a mask.
Social distance! Leave space between yourself and other visitors while walking round the park.
Wash your hands regularly and use the hand sanitiser available inside park buildings.
I recommend you to use the contact application of the country (COCOA) or the contact notification system "Ibaraki Amabie chan" of Ibaraki.

Informations sur les fleurs du moment
Némophile
Floraison optimale
Miharashi no Oka (Colline de Miharashi)
2021/4/18
Tulipe
Seconde moitié de la période de floraison optimale
Tamago no Mori Flower Garden (Jardin fleuri de la Forêt aux œufs)
2021/4/18
Colza du Japon
Seconde moitié de la période de floraison optimale
Miharashi no Sato (Village de Miharashi)
2021/4/18
Marguerite de Californie
Floraison aux 7/10èmes
Izumi no Hiroba Flower Garden (Jardin fleuri de Fountain Square)
2021/4/18
Bleuet
Tout début de floraison
Champs de fleurs aux abords des pistes de BMX
2021/4/18
Rhododendron kaempferi
En floraison
Kinen no Mori Sansakuro (Chemin de la Forêt du souvenir)
2021/4/18
À propos du Parc national côtier de Hitachi
Le Parc national côtier de Hitachi se trouve dans la ville d'Hitachinaka, du côté de l'océan Pacifique. Vous en apprécierez les belles fleurs tout au long de l'année dans ses grands jardins très bien entretenus. Au printemps, les narcisses, tulipes et némophiles (aussi surnommées les « bébés aux yeux bleus ») attirent nombre de visiteurs. Vous pourrez y admirer des coquelicots et roses au début de l'été, des zinnias et tournesols en pleine éclosion en été, des kochias (cyprès d'été) et cosmos en automne et des tulipes de glace en hiver. Toutes ces fleurs constituent un ensemble riche tout au long de l'année. Le parc d'attractions « The Pleasure Garden » offre plus de 25 attractions différentes, dont une grande roue d'où admirer les environs à 100 mètres d'altitude. De nombreux sites vous permettront de profiter d'activités en pleine nature, notamment l'espace sportif Rinkan, l'espace barbecue et le parcours cyclable.